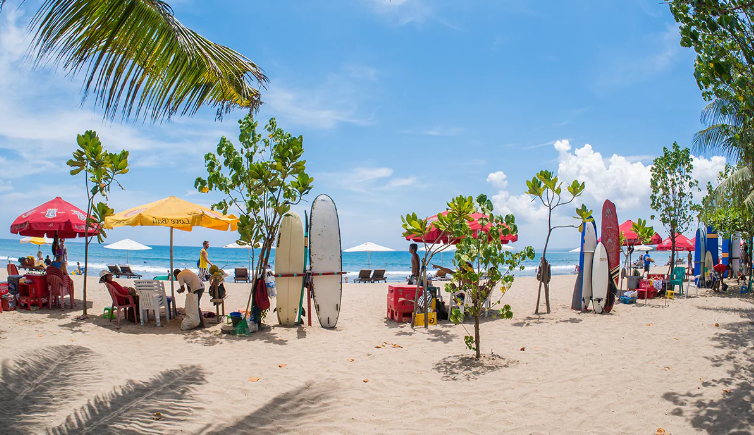 We are one of the best Kuta Tattoo Studio for walk-in tattoos and piercing jewellery as well. Located in Jalan Bakung Sari Kuta, Bali. Downunder Tattoo Bali Studio offers exclusive tattoo experience for our customers who are on vacation in Bali, especially in Kuta.
Kuta is the center of mass tourism in Bali. It attracts many tourists who like fun and inexpensive going out. Kuta has grown into one of the most popular touristy place in Indonesia. Since Bali is relatively close to Australia, Kuta area mostly "occupied" by Australians.
Kuta is known for its long coastline and a popular spot for tourists to sunbathe. There are many restaurants, bars, art shops and accommodations in Kuta ranging from low prices to high prices. Kuta is also very easy to reach from Ngurah Rai International Airport.
In previous years, Kuta was very popular among backpackers and surfers. Partly because of this, you will still find ample budget accommodation around Kuta amongst all the resorts. It's nightlife also making Kuta well know all around the world.
Most people will remember Kuta Bali from the horrific bombings that took place in 2002 and 2005. The tourist industry of Kuta was badly affected by the attack and as a result many Balinese lost their jobs due to the lack of tourists. Pandemic disaster was also making Kuta a quiet place for a while as not many tourist come to Indonesia for holidays or business.
Meanwhile, the tourists are coming back slowly reach the full numbers and if you want to go out every day, sunbathe or occasionally go surfing, it is best to stay in or around Kuta. Whether this is the place for you or not, you would not have been to Bali without a visit to this place.
Top Kuta Tattoo Studio & Tattoo Artist
Is very easy to find tattoo studios in Kuta area. They are also scattered around touristic area near Seminyak and Legian area. One of the leading tattoo studio at Kuta is the Downunder Tattoo Bali Studio. It is located at Jalan Bakung Sari No. 42 Kuta, Badung, Bali, Indonesia 80361.
Tattoos have always been a symbol for expressing one's own uniqueness and individuality. Getting a new tattoo placement while having vacation will be one of your best experiences. Nowadays, Bali has become one of Asia's top tattoo destinations. You will find many interesting and beautiful tattoo designs. Tattoo Bali concept provides countless ornaments and designs that are inspired by the local culture and unique expression.
Get Inked in Kuta Bali by Talented Tattoo Artists
The resident tattoo artists at Downunder Tattoo Bali Studio are very well experienced in their field and have been tattooing the customers for many years. Participating in tattoo contest and do collaboration among tattoo artist are routinely carried out to gain more experiences in tattoo industry.
Our tattoo artists have expert-level skills and familiar to create bright, bold, quality tattoos that permanently attached to the skin. You can either go ahead and choose a custom design from the list of an extensive collection from our artist's portfolio and they will be happy enough to personalise those designs according to the clients request.
Here, at Downunder Tattoo Bali Studio, we ensure to provide a comfortable and safe tattooing experience for everyone. We use fresh needles and cartridges to make sure it is following the international safety standard and Special care is taken to ensure your comfort while being tattooed at our Tattoo Bali Shop in Kuta. At this moment we accept walk-in guests and meeting by appointment before conduct tattoo projects.