Realism tattoo style have been in the mix since the late 20th century. It is said that realism can bring things back to "life" on your skin. A good realistic tattoo result is as life-like as possible. A realistic tattoo usually contains little to no lines. These tattoos consist of mostly shadows. The most common applications are therefore portraits and animals. Realism also works well with flowers, plants and 3D effects. The artist needs a clear photo of the highest possible image quality. Based on a photo the artist can make a stencil and use the photo as a reference during the tattooing process.
Realistic Tattoo Style
The realistic or hyper realistic style within tattooing is usually based on photographic images of nature, people, animals, etc. Characteristic of this style are a 3 dimensional (3D) approach, soft and gradual shadows and beautiful flowing colors. Realism has been part of the fine arts for centuries and has been introduced into tattoo art since the late 20th century.
At our shop in the busy Kuta Rock City of Bali, we offer this style in color and black and white, completely to your personal taste and wishes. Our artists can bring any idea you have to make it life. For example, a family member, a portrait of your favorite movie star, your beloved pet, etc. Other timeless subjects are religious pictures, roses, life and death symbolism (skulls, butterflies, angels, hourglasses, doves). Some images seem to live a life of their own and the tattooed person becomes a walking work of art himself.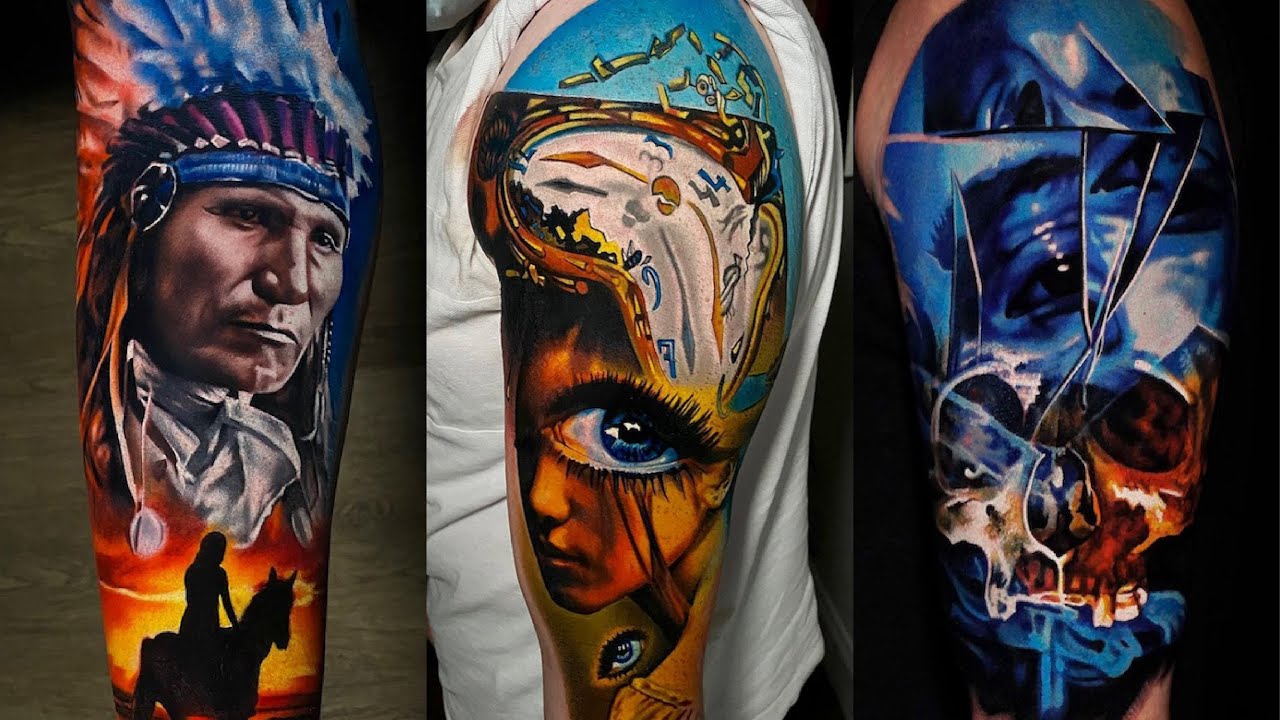 Important Things to Know Before Making Realism Tattoo Style
Before making an actual tattoo appointment, we would like to discuss your ideas, the placement and size of your tattoo. In a realistic tattoo style, the size really matters. So the bigger, the better! You should also think about whether you want your tattoo in black and white or rather in color. Color and black and white tattoos always look good but the darker your own skin tone is the less bright the tattoo will look once it is on your body. Once we have all the information we can start working on the design. Usually we make a digital sketch using photos chosen by you.
Skilfull Realism Tattoo Artist
Realism is a difficult style of tattooing, not every artist can do it. It takes years of practice for an artist to master this style. For an artist who makes realistic tattoos it is important that he or she understands how light and contrast work. This way the result is as 'real' as possible. A high level of detail is also important for a good realistic tattoo. If you want to have realism tattoo style here in Bali then you must visit Downunder Tattoo Bali Studio which is located in Kuta, Bali. We have some best realism tattoo artists which are ready to make your dreamed tattoos come true.