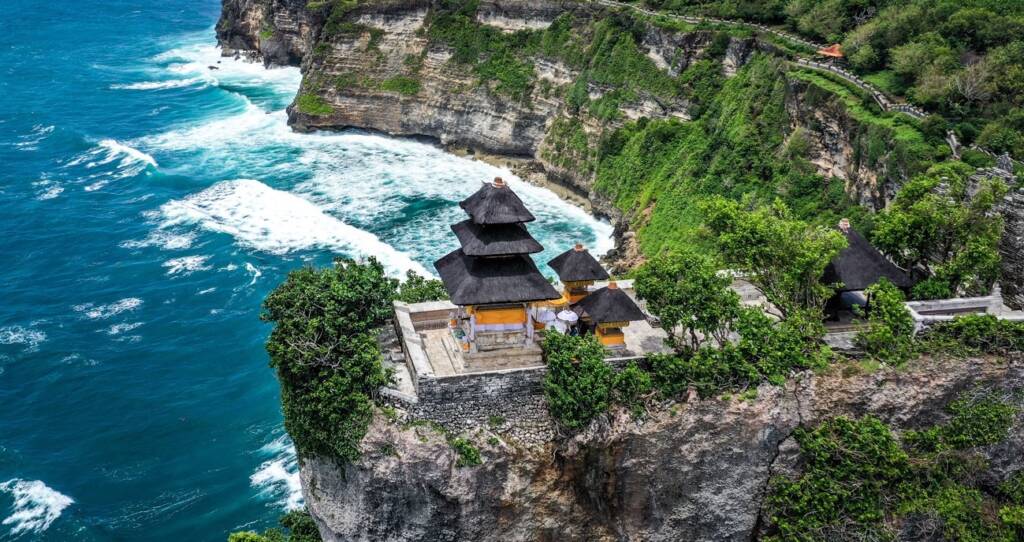 Looking for reliable Uluwatu Tattoo Studio while having holiday in Jimbaran, Bali?  Consider to visit Downunder Tattoo Bali Studio! Uluwatu is the home for most famous waves in Bali. The spot offers several waves which are considered the best among surfers.
Uluwatu is a region on the south-western tip of the Bukit Peninsula of Bali. It is also home to the famous Pura Luhur Uluwatu Temple. The name Uluwatu itself comes from ulu, meaning 'the lands end', and watu, meaning 'the rock'.
Uluwatu Temple is situated in Pecatu Village, a village located in South Kuta sub-district, Badung Regency-Bali. It is very famous for its mainstay tourist attraction, The Uluwatu Temple. The Temple stands firmly on a rock jutting into the middle of the ocean with a height of approximately 97 meters making this temple very beautiful, the rocky cliffs around the temple provide extraordinary views and spoil the eyes of the tourists who visit it. Moreover, the sea below also catches attention of world surfers to just enjoy the waves formed by the ocean in the right side of Uluwatu Temple cliff. The beauty of the panorama around Uluwatu Temple will increasingly amaze the tourists at sunset time which can be enjoyed from several cliff sides around the temple. Kecak Dance performance carried out inside area of the temple add the stunning scenery of the sunset.
Uluwatu village has very strategic location with extraordinary natural beauty makes this village chosen by investors to build villas, hotels and restaurants, for example Bulgari Hotels & Resorts, Alila Villas Uluwatu, The Palace, Tirtha Bali, The Edge, The Khayangan estate and many more. Uluwatu is perhap the finest spot in Bali. It's sprawling, have beautiful beaches, good parties place, and it's a great surf spot. Generally, Uluwatu and Canggu are the surf spots in Bali. However, Canggu is busier, more crammed and the waves are not that big as in Uluwatu. Uluwatu is pretty much the entire lower part of Bali.
Finding Good Quality Uluwatu Tattoo Studio
When you want to have a tattoo while enjoying vacation in Uluwatu, Jimbaran, then you have to make sure you find the right Uluwatu tattoo artist for the tattoo placement. Downunder Tattoo Bali Studio has gained reputation as one of the best tattoo studio in Bali. We also has a team of professional tattoo artists you can trust. We can also do tattoo for most popular tattoo style, from Realism to Japanese, watercolour & fineline.
Affordable & Good Quality Commitment of Uluwatu Tattoo Shop
Anyone wishing to have new or add more tattoos with us is always warmly welcomed by the resident tattoo artists, and they will assist you directly with any questions you may have about your new tattoo concept as well as make an appointment in advance. Downunder Tattoo Bali Studio commits for top quality, professionalism and affordable tattoo art work since 2012.
All of the tattoo artists that work at Downunder Tattoo Studio are well trained to apply tattoos to our customers in correct and safe way. The tattoo artists specialize in portrait realism, surrealism concept tattoos, Japanese, geometric, fineline and dotwork tattoos as well. You will find our Uluwatu Tattoo Studio for nearby location of Kuta, and our private tattoo studio is situated at Jalan Bakung Sari no 42, Kuta, Badung, Bali, Indonesia 80361.
Come and get ink here at Downunder Tattoo Bali Studio! We will be happy to answer any queries that may cross your mind. Do not forget to bring all your ideas and references designs to us and we will turn them into your own tattoo artwork with high quality services.